Welcome to BurlyCon!
Your plane has landed, you've collected your luggage and have successfully checked- in at the hotel(which is just across the street from the airport, so convenient!). Now what? First you'll want to get settled in your room. The Hotel Reigistration is in the main building. The hotel itself is split into three part- two hotel buildings and the convention center, which is over the parking lot in a separate building and connected to the hotel via a covered(but not enclosed) walkway. Once you're settled in it's time to head over to the convention center and check in for BurlyCon! Go over toward the parking lot and up the elevator, where once the doors open you'll be greeted into the halls of burlesque heaven. And, conveniently, the Registration desk is directly in front of you!
Registration
The BurlyCon Registration desk with be in the same place all weekend so no matter what day you arrive you'll be able to check in. Usually the line is divided by name but if it isn't too busy you can simply head to the counter and pick up your badge. Make sure you have your ID on you!
Pro-tip: Since the hotel and convention area are a short walk make sure you have a small bag to carry your daily items. Once you get to the con area you won't be running back and forth between classes and your room. Keep a refillable water bottle, notebook & pen, ID, some cash for vending, and networking cards with you.
The hours for Registration are as follows: Thursday 10:30 AM to 7:00 PM / Friday 7:30 AM to 7:00 PM / Saturday 10:00 AM to 2:00 PM & Early 2019 Reg from 12:00-1:00PM / Sunday Closed.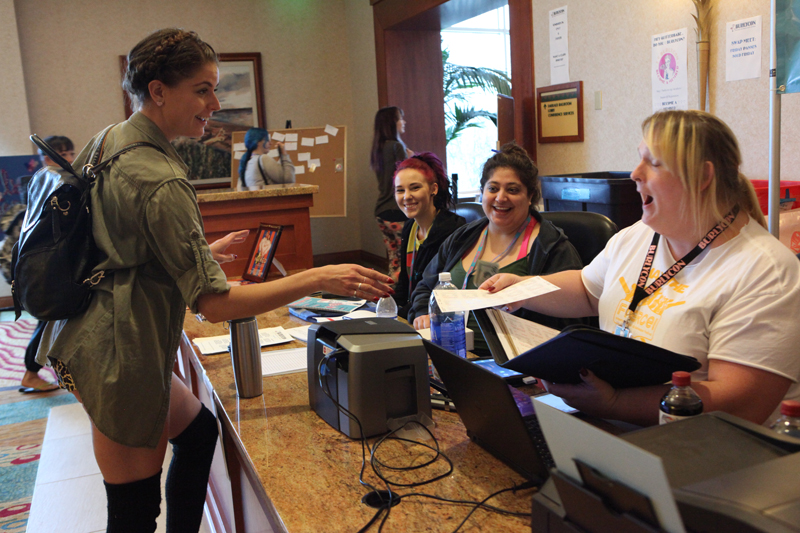 Hospitality
Need a snack in between classes? BurlyCon has a Hospitality Room where you will find snacks and drinks to help you get through the weekend. This year Hospitality will be offering the usual array of snacks for all kinds of diets as well as PB&J Bar (including gluten free bread and nut free options). Coffee and Tea will be available all day to keep you recharged.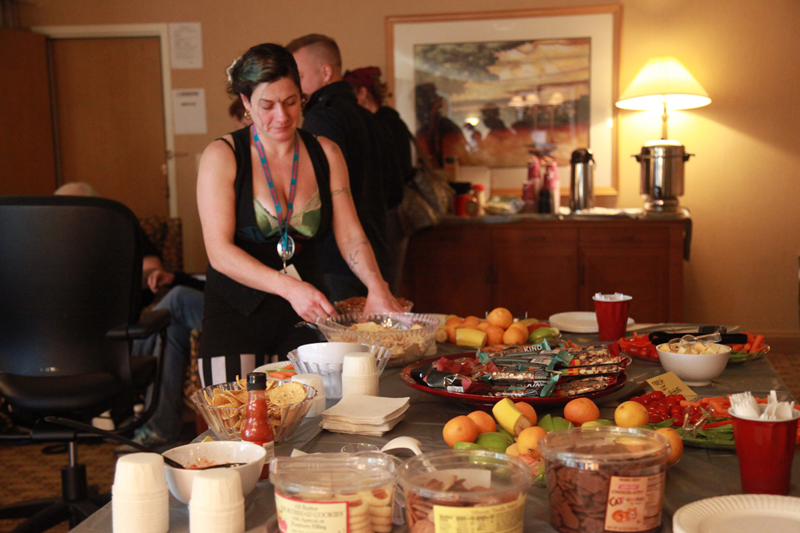 BurlyBar
In the evenings the Hospitality Room transforms into BurlyBar! If you're looking for a cheap drink or a place to socialize before the events look no further than the BurlyBar. The BurlyBar bartenders will be serving up specialty cocktails as well as wine, beer, and mixed drinks, so bring your cash and credit and stop on by!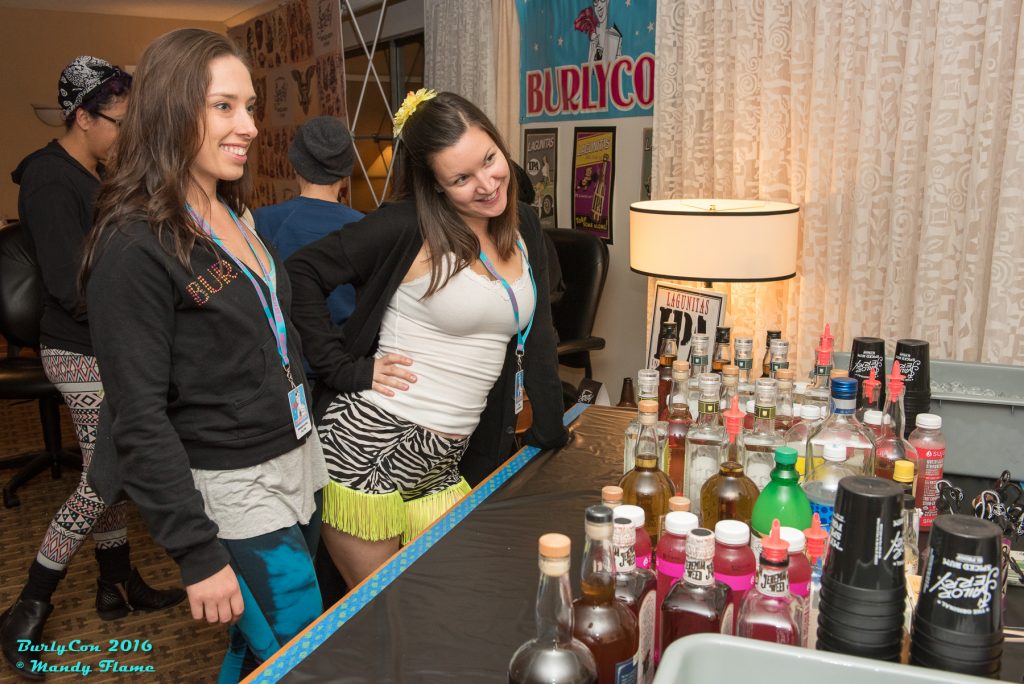 Be sure to check your schedule for the open hours of both Hospitality and the Burly Bar. And be aware that Hospitality will be closed briefly for the Class Photo on Friday night. If you have questions there is always a volunteer in the Hospitality room to help.
How to get to the Hospitality Room: The Hospitality Room is located in the St. Helen's Suite which is found on the 3rd floor of the main hotel building(sitting over the Elliot rooms on the 1st floor).
Library
If you're looking for a place to find a little peace and quiet look no further than the Library. The library offers a large assortment of burlesque books, papers, and poster presentations.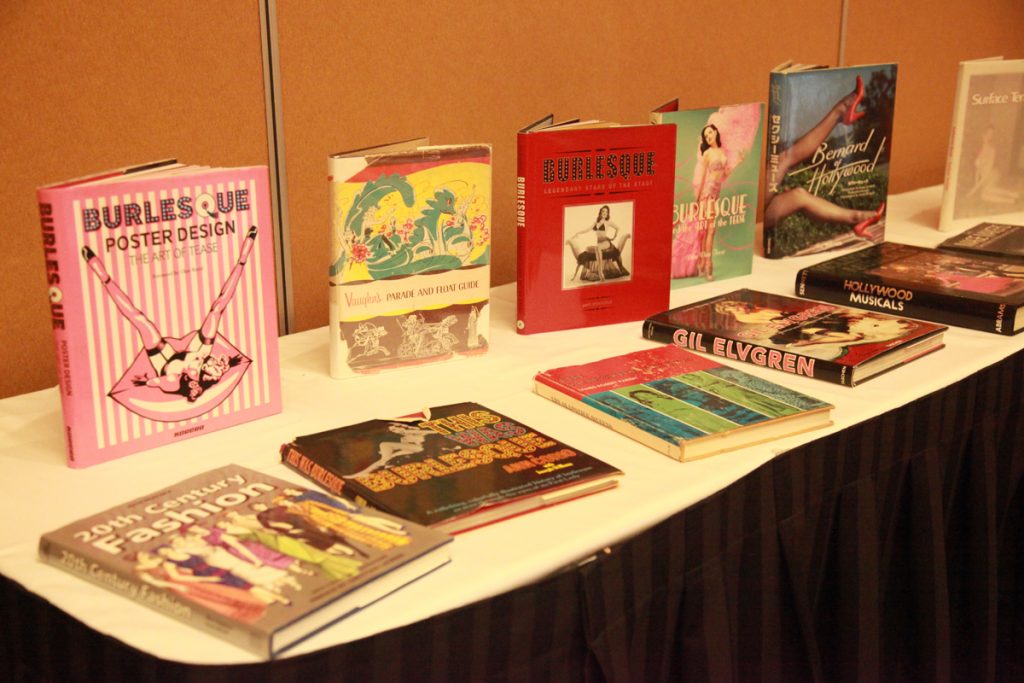 Vendor Fair
On the other end of the spectrum is our much more lively Vendor Fair! Home to well over 20 vendors this is the place to be if you need a new sparkly anything! Rhinestoned bras, pasties for days, and enough glitter to be seen from the moon. The Vendor Fair is located in the main convention area and will be open select hours all weekend. See who all will be selling their wares HERE.
More questions? You can always duck into the Operations room found down the hall from Registration or Registration itself and ask any BurlyCon committee member for help. We are eager to help and will do our best to guide you to where you need to go!
And if you'd like more tips on preparing for your first BurlyCon check out these other blog posts: Classes, What to Pack, Exploring Seattle.